Schedule
Times may be adjusted slightly in the coming weeks, and additional sessions will be added to the 16th, 17th, and 18th as times are confirmed. More details coming soon!
October 15

---
October 16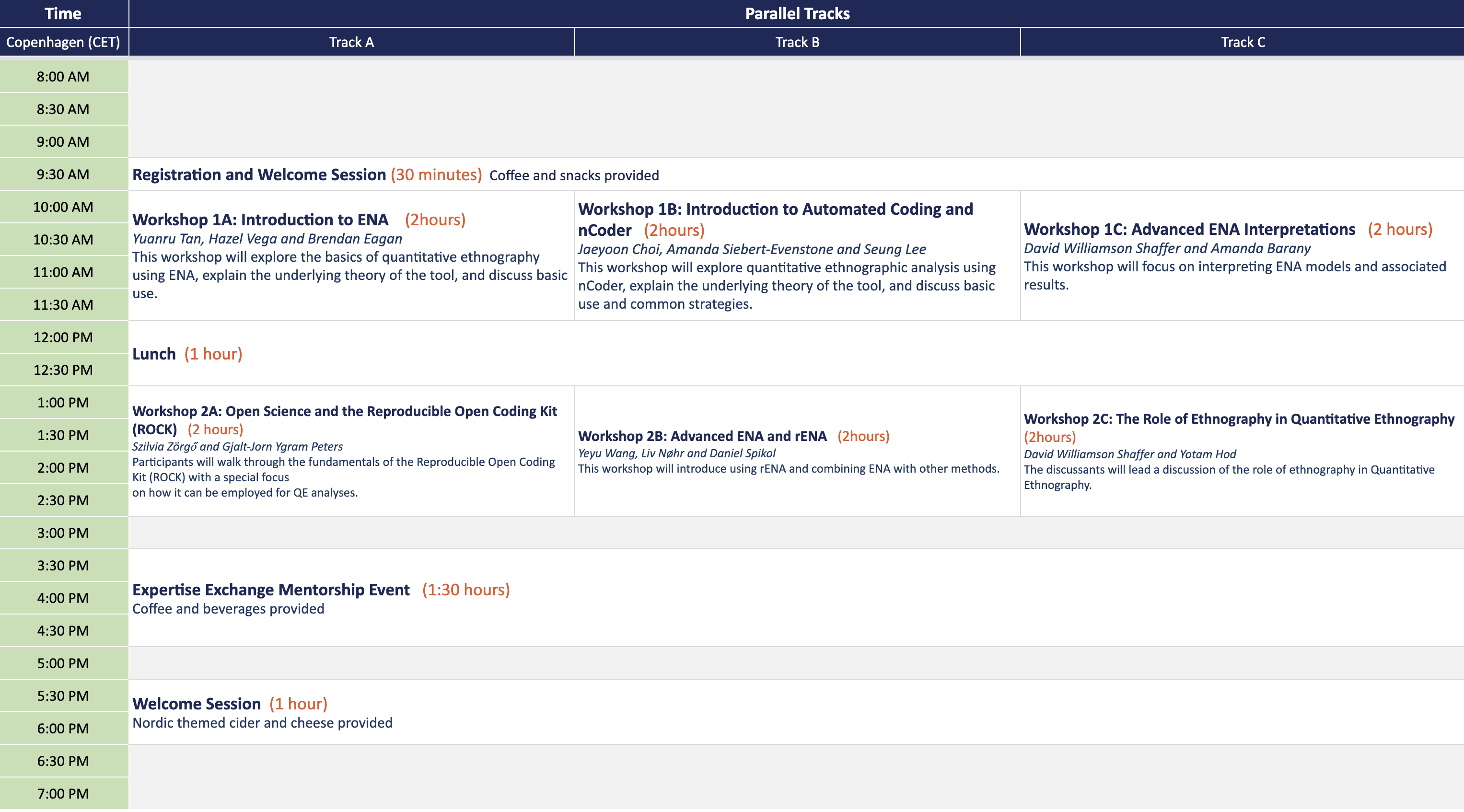 ---
October 17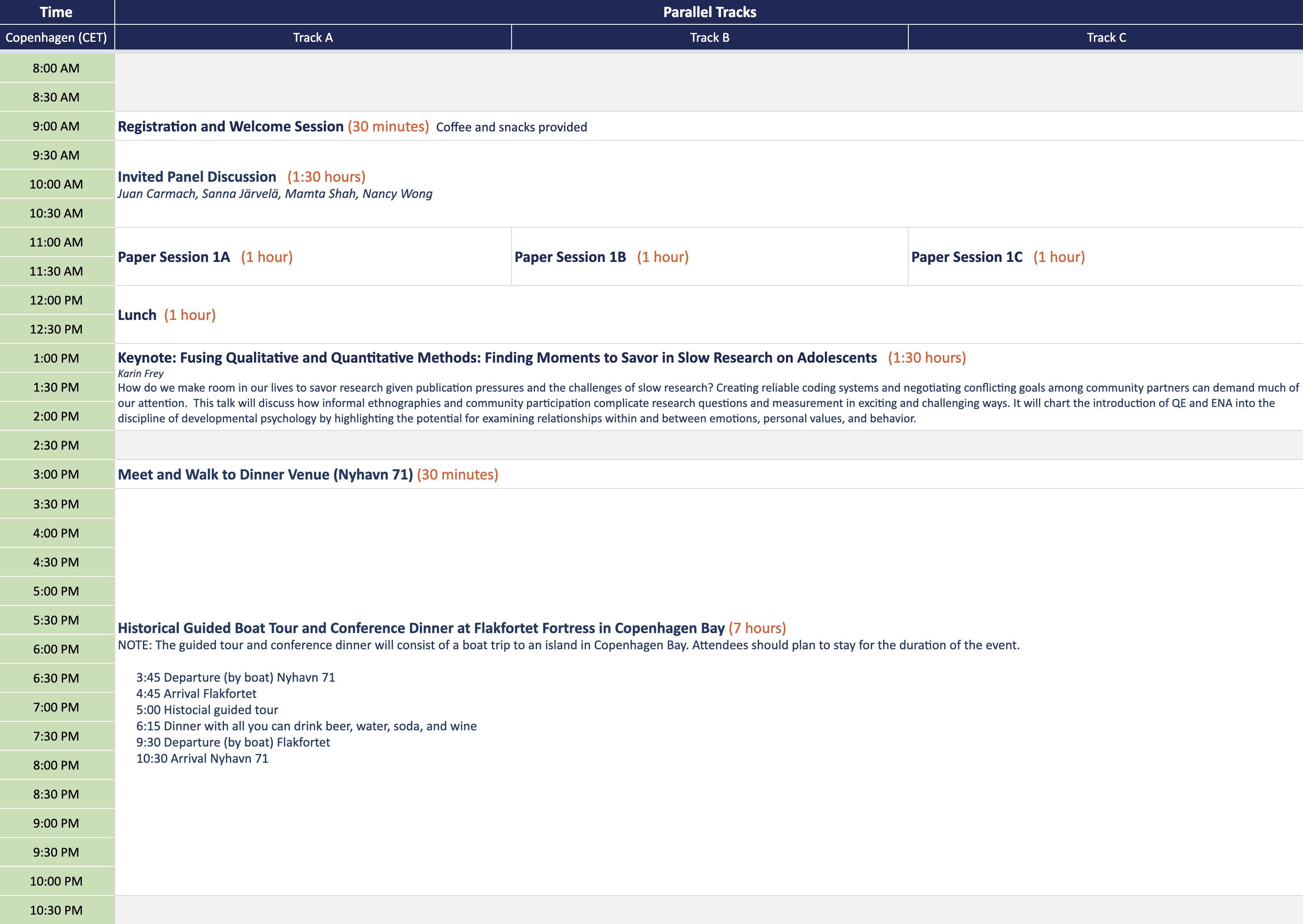 11:00 AM – 12:00 PM CET
Exploring Professional Engagement and Learning
Mathematics Teachers' Knowledge for Teaching Proportion: Using Two Frameworks to Understand Knowledge in Action
Chandra Orrill and Rachael Brown
Learning through feedback: Understanding early-career teachers' learning using online video platforms
Lara Condon
Change the Museum: Examining social media posts on museum workplace experiences to support justice, equity, diversity, and inclusion (JEDI) efforts
Danielle Espino, Bryan Keene, and Payten Werbowsky
Policy in Practice
Quantitative Ethnography of Policy Ecosystems: A Case Study on Climate Change Adaptation Planning
Andrew Ruis
Computational thinking in educational policy – the relationship between goals and practices
Andreas Tamborg, Liv Nøhr, Emil Bøgh Løkkegaard and Morten Misfeldt
Political Discourse Modeling with Epistemic Network Analysis and Quantitative Ethnography: Rationale and Examples
Eric Hamilton and Andrew Hurford
Formalizing QE Foundations
The Foundations and Fundamentals of Quantitative Ethnography
Golnaz Arastoopour Irgens and Brendan Eagan
Parsing the Continuum: Manual Segmentation of Monologic Data
Szilvia Zörgő and Jais Brohinsky
Does Active Learning Reduce Human Coding?: A Systematic Comparison of Neural Network with nCoder
Jaeyoon Choi, Andrew Ruis, Zhiqiang Cai, Brendan Eagan and David Shaffer
---
October 18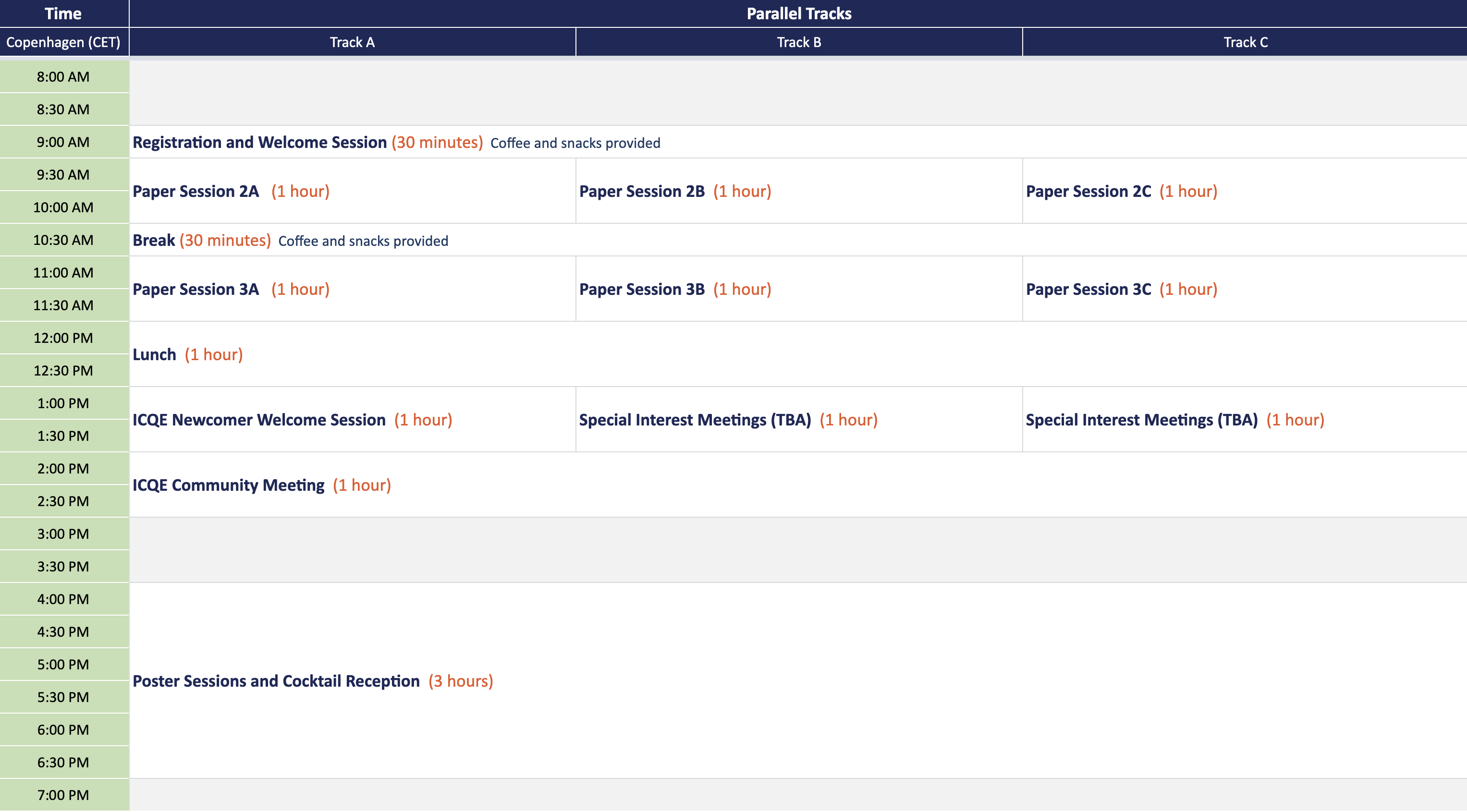 9:30 AM – 10:30 AM CET
Student Learning and Self-Regulation
Understanding Detectors for SMART Model Cognitive Operation in Mathematical Problem-Solving Process: An Epistemic Network Analysis
Mengqian Wu, Jiayi Zhang and Amanda Barany
Modeling Students' Performances in Physics Assessment Tasks Using Epistemic Network Analysis
Hamideh Talafian and Housn Kang
Self-Regulation in Foreign Language Students' Collaborative Discourse for Academic Writing: An Explorative Case Study on Epistemic Network Analysis
Ward Peeters, Olga Viberg and Daniel Spikol
Engaging Participants in Research
How Can We Co-Design Learning Analytics for Game-Based Assessment: ENA Analysis
Yoon Jeon Kim, Jennifer Scianna and Mariah Knowles
Analyzing the Co-design Process by Engineers and Product Designers from Perspectives of Knowledge Building
Ayano Ohsaki and Jun Oshima
Creating and Discussing Discourse Networks with Research Participants: What Can we Learn?
Hazel Vega Quesada
Initiating a Discussion on Reporting Practices in Quantitative Ethnography
Savannah Donegan, Diána Dunai, Brendan Eagan, Rogers Kaliisa, Marcia Moraes, Gjalt-Jorn Peters, Clara Porter, and Szilvia Zörgő
Reporting is an essential aspect of all research, including the field of quantitative ethnography (QE), especially when using QE's flagship analysis tool, Epistemic Network Analysis (ENA). In this symposium, a disciplinarily diverse set of speakers who have collaborated on a systematic review of the QE field will assemble to share explanations and examples of how reporting features and practices specific to QE can enhance the understanding, transparency, and confirmability of research. Symposium attendees will be engaged in a dialogue on how to develop rigorous and widely accessible QE reporting guidelines as the discipline continues to develop.
11:00 AM – 12:00 PM CET
Understanding Online Collaboration
Community at a Distance: Understanding Student Interactions in Course-Based Online Discussion Forums
Jennifer Scianna, Monique Woodard, Beatriz Galarza, Seiyon Lee, Rogers Kaliisa and Hazel Vega Quesada
Modeling Collaborative Discourse with ENA using a Probabilistic Function
Yeyu Wang, Andrew Ruis and David Shaffer
What makes a good answer? Analyzing the Content Structure of Stack Overflow Answers
Luis Morales-Navarro and Amanda Barany
Shared Experiences through a QE Lens
An Examination of Student Loan Borrowers' Attitudes toward Debt before and during COVID-19
Dara Bright and Amanda Barany
Ukraine War Diaries: Examining lived experiences in Kyiv during the 2022 Russian invasion
Danielle Espino, Kristina Lux, Heather Orrantia, Samuel Green, Haille Trimboli and Seung Lee
Leveraging Epistemic Network Analysis to Discern the Development of Shared Understanding between Physicians and Nurses
Vitaliy Popov, Raeleen Sobetski, Taylor Jones, Luke Granberg, Kiara Turvey and Milisa Manojlovich
Advances in Modeling
Multiclass Rotations in Epistemic Network Analysis
Mariah Knowles, Amanda Barany, Zhiqiang Cai and David Shaffer
Ordered Network Analysis
Yuanru Tan, Andrew Ruis, Cody Marquart, Zhiqiang Cai, Mariah Knowles and David Williamson Shaffer
Operationalizing Relational Context with Stanza Windows
Szilvia Zörgő
---
October 19
9:30 AM – 10:30 AM CET
Advances in QE Automation and Simulation
Automated Code Extraction from Discussion Board Text Dataset
Sina Mahdipour Saravani, Sadaf Ghaffari, Yanye Luther, James Folkestad and Marcia Moraes
The Role of Data Simulation in Quantitative Ethnography
Zachari Swiecki and Brendan Eagan
Neural Network Assisted Regex Development for Qualitative Coding
Zhiqiang Cai, Brendan Eagan, Cody Marquart and David Shaffer
Broadening Perspectives on QE
Reducing networks of ethnographic codes co-occurrence in anthropology
Alberto Cottica, Veronica Davidov, Magdalena Góralska, Jan Kubik, Guy Melançon, Bruno Pinaud and Wojciech Szymánski
Is QE Just ENA?
David Williamson Shaffer and Andrew Ruis